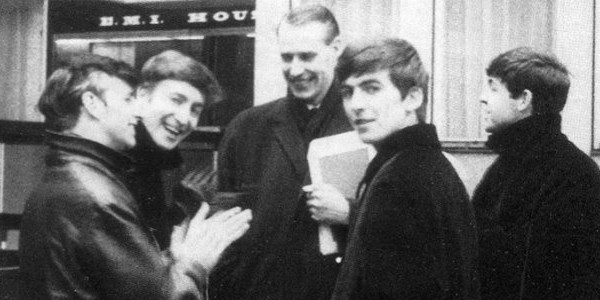 Beatles manager Brian Epstein was the Fifth Beatle. New York DJ Murray the K was the Fifth Beatle too. Fifth Beatle status has been applied to many— Beatle personal assistant Neil Aspinall, Andy White who played drums on the Beatles' first hit record "Love Me Do," original Beatle bassist Stuart Sutcliffe, to name just a few. Fifth Beatle status is reserved for those who made a significant contribution to the band, like Billy Preston, who played a major role in the acclaimed "Let It Be" album—but being a Fifth Beatle also means that you're not quite on the inside—not actually one of the lads—and that's why George Martin was no Fifth Beatle.
George Martin was a Beatle. Period.
A classically-trained composer who had been supervising classical recordings for EMI's Parlophone Records for a decade before he met John, Paul, George and Ringo, at the audition, Martin described the mop-tops' music as "rubbish." It may be that Martin signed the Beatles to Parlophone more as a politically commercial gesture to gain access to Brian Epstein's successful record store outlets. Epstein was desperately running out of record companies to sign the Beatles.
But it didn't take long for Martin to become an integral part of the Beatle sound. The haunting strings in "Eleanor Rigby," the experimental looping in Lennon's "Rain," and the mind-blowing sounds that made "Sgt Pepper" the greatest rock album of all time, represent a small sample of Martin's influence.
Martin's contributions as a Beatle took the group to another level—from the world's greatest pop band to a globally culture-changing art movement, whose legacy will endure, like Mozart and Picasso, for centuries.
George Martin: 1926-2016