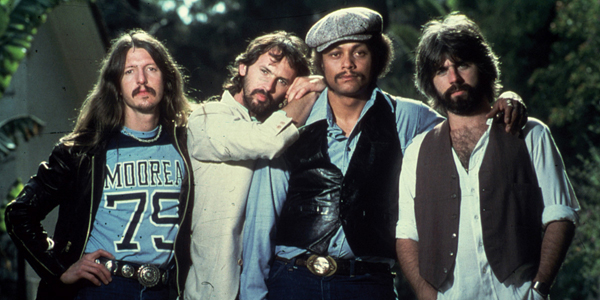 I showed up late at the hotel for breakfast with the Doobie Brothers. Over eggs and bacon, a Doobie road manager suggested to a Rolling Stone magazine journalist that he go with Pat Simmons and Jeff "Skunk" Baxter up to a room for an interview—then the manager gave me a ticket to ride an elevator with Tiran Porter and a Steely Dan sideman filling in for Tom Johnston, who was MIA, convalescing back in California with a bleeding ulcer.
I wanted to protest but didn't want Tiran to think it wasn't cool to interview him—because it was—it was just that I really wanted to interview Pat too. I looked to Pat for help and he held out his arms and pulled a face as if to say it wasn't his fault, he couldn't help it, it was out of his hands.
Man, I had a real attitude during that elevator ride. In the room, during the interview, I couldn't have been more of a poophead to the new guy. But I mean, really, who was this guy?
He was Michael McDonald, that's who.
The singer, songwriter, and keyboardist that would go on to take the Doobies in a new direction—writing and performing some of the band's most memorable hits—"Takin It To The Streets", "It Keeps You Runnin'", "Minute by Minute", "What A Fool Believes."
The five-time Grammy award winner who also wrote and performed songs for Van Halen, James Ingram, Kenny Loggins, Patti Labelle, Aretha Franklin, and others.
The guy nominated this month to be inducted into the Songwriter's Hall of Fame.
Congratulations Mike—sorry I was such a butt.