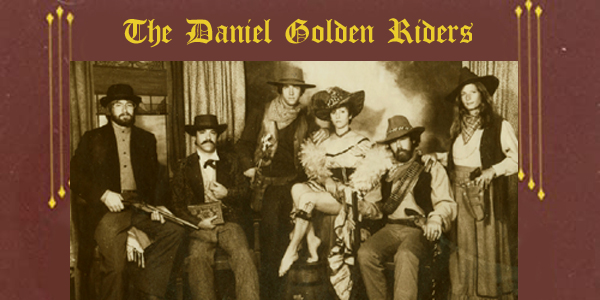 The Gold Rush rolled us up like an avalanche over a Telluride mine, depositing giddy excitations and lusts in our hearts for new things. I begat a mind to wander. Newly ordained, I stayed on to pronounce two friends, Bob and Sheri Larcom, man and wife, in a ceremony up at Red Rocks outside Denver — then lit a shuck out California way.
Fell in and rode a few spells with the Daniel Golden Gang. We sat for this tintype in Balboa Park as a wedding party where I was appointed to minister the marriage sacrament for, best I recall, a dance hall belle and Paul, a bartender at a saloon in downtown San Diego. Y'all see I'm the only one not carrying a cannon — just the Good Book tucked in my arm? Looks like ole Pete has a bead on my privates with his shotgun, case I had designs on absquatulating, I guess.
Turns out on the day of the wedding, I did something I shouldn't have been doing in a place I shouldn't have been that caused an event that shouldn't have happened. A minister outside the Gang had to step in and perform the marriage service in my absence. I reckon Daniel and the others never forgot me for that.