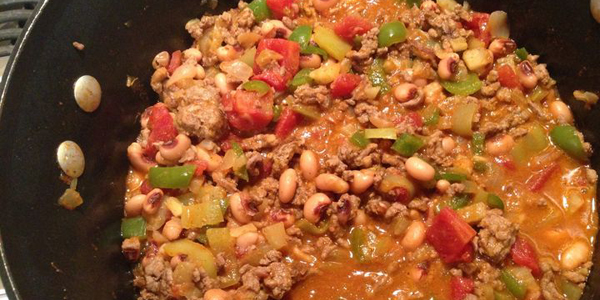 I've never shared this remarkable chili recipe until now … well, there was one occasion long time ago. When I was living in Boulder, my next door neighbor, a University Colorado student from Saudi Arabia, let's call him Muhammed, had a friend, Saad, who shamed me into giving the coveted recipe up. I was kind of a regular visitor whenever the young Sauds would sit in a circle on the floor at Muhammed's and eat Kabsa—chicken and rice cupped into balls with our hands straight out of the deep pot. We'd wash it down with wine, one large bottle we passed around.
One night, after too many swigs, I foolishly revealed that I was in possession of the recipe for the coveted Beef Black-Eyed Chili—originally Lamb Black-Eyed Chili. I had acquired the recipe from Guru Har Bhadur, whom I met at a Baba Ram Dass appearance. Guru Har Bhadur enthralled me with stories of the special properties of the blessed stew. He told me after one chili session he fell into a deep sleep and woke up, levitating, wrapped in his sheets, a beautiful maiden at the foot of his bed! Ultimately, after much coaxing and begging, he traded the secret recipe to me for a phone number of a friend of my date's whom he fancied—with a caveat: "Don't ever reveal the recipe to anyone! The power in the pratishta will fade for you," he warned. I promised.
That reckless night while I shared the stories of the mystical chili with the normally chatty Sauds, I  became aware that they had become silent. They were completely tuned in to me—something I had never experienced before or since with that lot. I sensed an imminent query into the recipe pending, so I got up from the floor and explained there was a pressing matter for me to tend and headed for the door, when Saad cried out in a loud voice, "Share with your brothers … this … chili … how may we prepare it?" I turned back slowly, "Sure," I said. "I have to run now. Maybe next time we meet."
Weeks went by and I successfully avoided them but Muhammed was becoming increasingly agitated. One morning, Muhammed, showed up at my door and awakened me. I knew it was serious because he never appeared to me until the evening hours. The only time he had ever knocked on my door so early was to shock me out of my slumber, "Your God … is dead," he said—when the pope died.
On this occasion, Muhammed convinced me that I had brought shame on him for refusing to share with Saad the golden chili recipe. I resisted and finally told him of the vow I took not to share it. He looked as hurt as anyone I ever saw, and I felt compassion for him. He offered me $50, which, back then, and my financial circumstances at the time, was probably worth about $5,000 in today's money. I hate to see anyone whom I love suffer—especially me—so I agreed.
Today I'm sharing this recipe because, let's be honest, our time is short, friends. And if Trump is reelected, it is likely much shorter than we imagine. So … let us enjoy!
BTW: Only about 25% of the above story is truthful. But, hey, the chili is 100% real!
The Chili
INGREDIENTS
2 tbs olive oil
1x fennel bulb (diced)
4x banana peppers (finely chopped)
2x medium green peppers (finely chopped)
1x medium sweet onion (diced)
1lb 96% lean ground beef or ground lamb
2x cloves or 2x small spoons of minced garlic
2x tsp. garlic salt
1x can diced tomatoes (chili ready)
1x can black-eyed peas
Dad's Famous Spice Remix (Mix the following in a bowl or container: 1tsp. paprika, 2tsp. garlic powder, 1tsp. cumin, 1tsp. ground cinnamon, 1tsp. ground tumeric, 2tsp. ground cayenne red pepper, 2tsp. chili powder, 1tsp. curry powder)
OPTIONAL: I'm not big on toppings like cheese, cilantro etc, however, whenever i feel like venturing the wild side i shave a few slivers of Red Savina habanero pepper from Christina's plant and drop them into the chili when it's about done. Warning: these little peppers are hotter'n hell.
METHOD
1. Cook the fennel, onion, banana peppers and green peppers: In a medium, heavy-bottomed pot over medium heat, heat the olive oil. Add the fennel that you diced from the bulb. A minute later add the onions. Another minute slide the banana and green peppers in. I like my mix sauteed well—when brown patches appear on the fennel and onion.
2. Cook the beef: Add the beef, garlic, and garlic salt. Cook, breaking the meat up with a spatula or the edge of a spoon, until it is no longer pink.
3. Add the tomatoes: Stir in the tomatoes with its juice. Mix well. And cover for two minutes.
3. Add the black-eyed peas: Stir in the black-eyes with its juice. Mix well. And cover for two minutes.
3. Spoon in Dad's Famous Spice Remix : Season to taste. Cover. Turn heat down to low – medium low and let simmer for 30 minutes.
This amazing chili keeps for about a week, covered, in the refrigerator and up to 3 months when frozen.