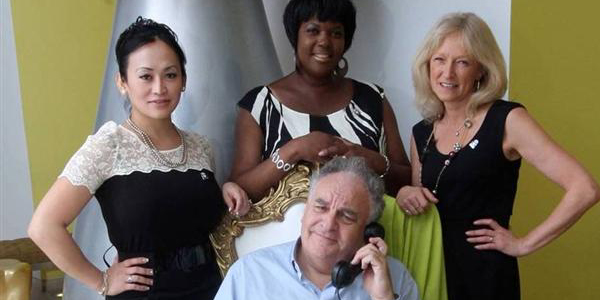 "If you knew how much I made, you'd quit your job and start writing songs." That's what British songwriter Geoff Morrow told me when I asked him how much he earned in royalties from "Can't Smile Without You"—the monster hit song recorded by Barry Manilow and then The Carpenters.
Morrow's songs have been recorded by Manilow, The Carpenters, Johnny Mathis, many artists—including four songs for Elvis Presley. He also wrote songs for his own band, Butterscotch, and scored a Top 20 hit in 1970 with "Don't You Know." He's written screenplays, produced musicals and formed record companies. At the time I met him, he had earned enough to buy the Manchester Opera House and Palace Theatre—for about $9 million.
In his elegant home, a stylish bungalow that took me awhile to find because it was cleverly hidden off the busy High Road in North Finchley, London, the walls of the extended narrow hallway that leads to the back of the house are populated with framed gold records and other musical memorabilia. I stopped and gawked.
I'd been living in England long enough to know that part of the reserve that the British are known for includes not prying into personal matters—like digging into how much one earns, for example. But I couldn't resist. Besides, I figured Morrow had been exposed to nosy Americans and he'd likely excuse me, generally—based on primitive cultural grounds—so I took a chance.
"How much royalties did you make on 'Can't Smile Without You?" I asked.
Geoff looked more amused than disapproving of my bad form.
"Wayne, if I told you how much I earned from 'Can't Smile Without You'—you know what?—you would quit what you're doing and start writing songs."
Undaunted, with no shame, and as my dad liked to say, I showed my ass: "Really, how much?"
Geoff smiled. "It's still a nice little earner, that one," he said. "It depends. I might get a nickel if a radio station in a small dusty West Texas town plays it late at night. Or that song could generate $5,000 if it was played during prime time coast to coast in America on CBS. Depends."
Not sure how much you earn from YouTube play, Geoff, but hope this adds to the pile.